Can Acupuncture Help You Get Relief From Your Allergies?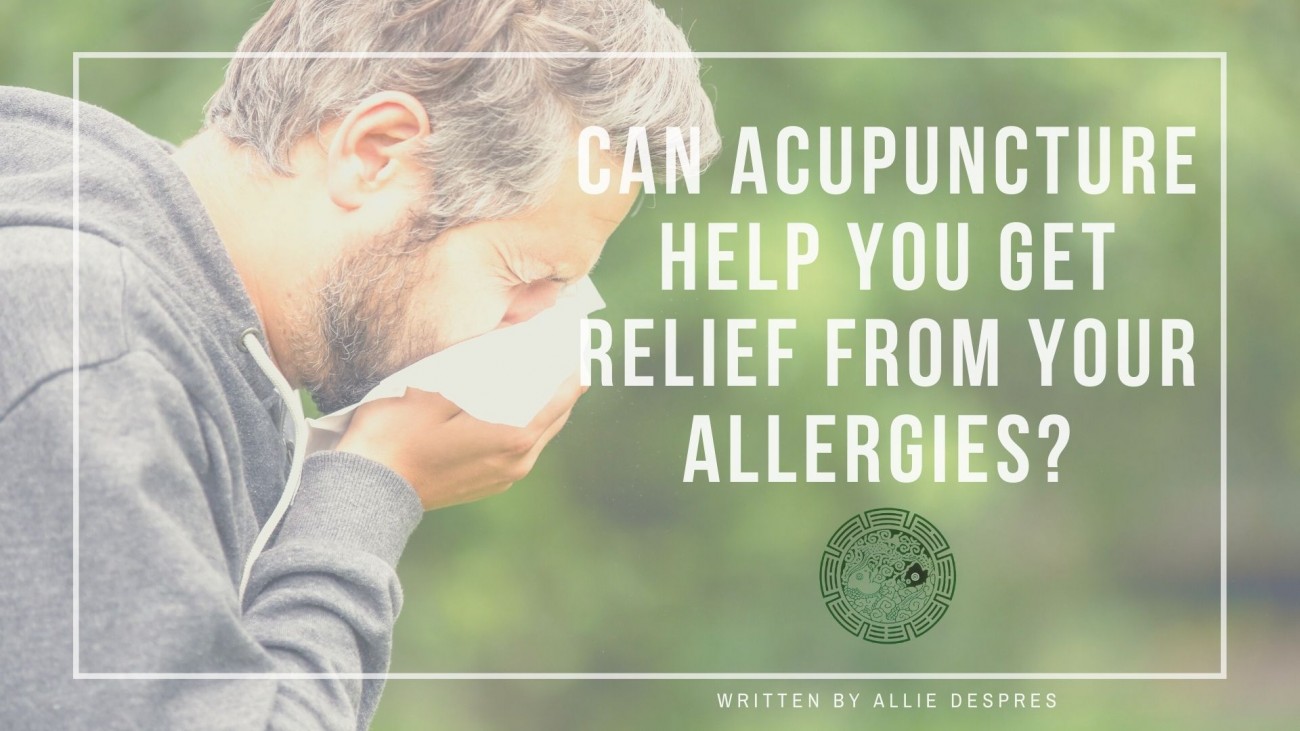 Can Acupuncture Help You Get Relief From Your Allergies?
By: Allie Despres
Spring can be the worst time of year for folks with seasonal allergies or allergic rhinitis (hay fever). Pollen levels are especially high in the spring due to trees, grass, and flowers fertilizing. Common conventional treatments for seasonal allergies and allergic rhinitis include antihistamines like; Cetirizine (Zyrtec), Diphenhydramine (Benadryl), Fexofenadine (Allegra), Loratadine (Alavert, Claritin)(6). Although helpful for immediate short term relief of symptoms these drugs have some not so favorable side effects like;
-Sedation
-Impaired motor function
-Dizziness, dry mouth, and throat
-Blurred vision
-Urinary retention, and constipation (6).
A long-term study conducted by the University of Washington and Group Health found that long-term use of Benadryl can increase your risk for dementia (8).
According to Traditional Chinese Medicine, the body's immunity is the function of what is termed the defensive Qi. Acupuncture is a safe non-invasive alternative or complementary treatment that is shown to provide relief from allergy symptoms. Not only has the practice existed for 3,000+ years, but its effectiveness for those with allergies has also been examined in several studies(2-5). Researchers have studied how inserting small needles in specific points on the body relieves such a wide range of issues, and they have come up with a few answers. They believe acupuncture triggers the body to release endorphins and serotonin, which alleviates pain. Acupuncture also seems to decrease inflammation in the body, which is a key part of the allergic response(9). Inflammation of the sinuses is what causes so much pain and discomfort for those with allergies. Acupuncture is so safe that it can be performed often and over a long period of time, unlike common allergy drugs.
Allergic rhinitis is a disease that roughly affects 20–30 % of people worldwide (7), of that group, researchers found that more than 60% of patients with allergic rhinitis have used acupuncture (9). In a study performed in Australia from 2011 to 2019 researchers concluded that four weeks of acupuncture treatment is a safe and effective option for clinical management of seasonal allergic rhinitis (10). The German 2013 ACUSAR study ("Acupuncture in seasonal allergic rhinitis"), a multicenter study on acupuncture in seasonal allergic rhinitis with 422 patients, examined the efficacy of acupuncture on symptom reduction and improvement of quality of life in comparison to symptomatic therapy with antihistamines and "sham" acupuncture (7). The results of this study show a statistically significant improvement of quality of life in the acupuncture patients.
Traditional Chinese medicine and acupuncture are complex and practitioners individualize treatments for every client. At Tai Chi Acupuncture and Wellness Center, our goal is to gently guide your own immune system to heal itself. All of our licensed acupuncture practitioners have been trained to treat allergies and they have all had great success at helping patients improve their quality of life. We take great pride in the expertise of our renowned staff who each have thousands of hours of clinical healthcare experience. We take an integrative, non-judgmental approach to healthcare and always put you first. If you or someone you know is struggling with seasonal allergies or allergic rhinitis please call us to help! We are offering a free 30 minute consultation to discuss your personalized treatment plan.
Works Cited:
Petti FB, Liguori A, Ippoliti F. Study on cytokines IL-2, IL-6, IL-10 in patients of chronic allergic rhinitis treated with acupuncture. J Tradit Chin Med. 2002 Jun;22(2):104-11. PMID: 12125480.
Brinkhaus B., Witt C.M., Jena S., Liecker B., Wegscheider K., Willich S.N. Acupuncture in patients with allergic rhinitis: a pragmatic randomized trial. Ann Allergy Asthma Immunol. 2008;101:535–43. doi: 10.1016/S1081-1206(10)60294-3. [PubMed] [CrossRef] [Google Scholar]
Langer H., Hauswald B. Die therapeutische Wirkung der Akupunktur und Laserpunktur bei Patienten mit Rhinopathia pollinosa. Dt Z Aku. 1989;32:109–111. [Google Scholar]
Ng D.K., Chow P.Y., Ming S.P., et al. A double blind, randomized, placebo-controlled trial of acupuncture for the treatment of childhood persistent allergic rhinitis. Pediatrics. 2004;114:1242–7. doi: 10.1542/peds.2004-0744. [PubMed] [CrossRef] [Google Scholar]
Williamson L., Yudkin P., Livingstone R., Prasad K., Fuller A., Lawrence M. Hay fever treatment in general practice: a randomised controlled trial comparing stan-dardised Western acupuncture with sham acupuncture. Acupunct Med. 1996;14:6–10. doi: 10.1136/aim.14.1.6. [CrossRef] [Google Scholar]
LiverTox: Clinical and Research Information on Drug-Induced Liver Injury [Internet]. Bethesda (MD): National Institute of Diabetes and Digestive and Kidney Diseases; 2012-. Antihistamines. [Updated 2017 Jan 16]. Available from: https://www.ncbi.nlm.nih.gov/books/NBK547896/
Yarin, Y., & Hauswald, B. (2014, June). Acupuncture in allergic rhinitis: A mini-review. Retrieved April 02, 2021, from https://pubmed.ncbi.nlm.nih.gov/26120523/
Merz, B. (2019, October 23). Common anticholinergic drugs like BENADRYL linked to INCREASED dementia risk. Retrieved April 08, 2021, from https://www.health.harvard.edu/blog/common-anticholinergic-drugs-like-benadryl-linked-increased-dementia-risk-201501287667
Jennifer L.W. Fink, R. (2020, May 01). Treating allergies with acupuncture. Retrieved April 08, 2021, from https://www.healthgrades.com/right-care/allergies/treating-allergies-with-acupuncture
Xue, Charlie & Zhang, Tony & Zhang, Claire Shuiqing & DaCosta, Cliff & Story, David & Thien, Francis. (2015). Acupuncture for seasonal allergic rhinitis: A randomized controlled trial. Annals of allergy, asthma & immunology : official publication of the American College of Allergy, Asthma, & Immunology. 10.1016/j.anai.2015.05.017.